BTG proudly sponsored another year of the Meadowbank School in the Eastern races for the 2017 Soapbox Derby, the Meadowbank Wilderpeople had such a fun experience competing at Regionals and Nationals.
This year at the Eastern races Meadowbank placed 2nd, 4th, 5th and 6th which qualified all four teams to enter into Nationals. Such an awesome result!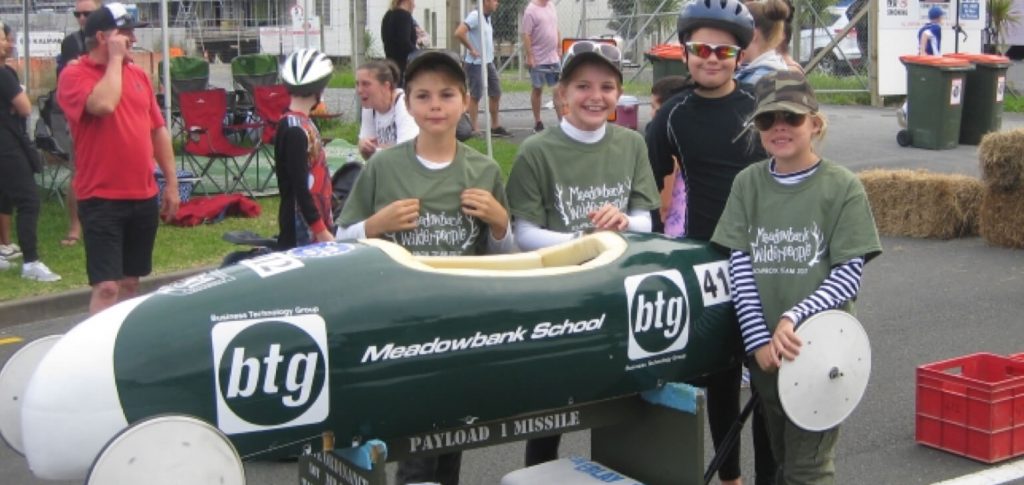 After the first round of Nationals, all four drivers raced with skill and precision and were through to the top twelve! During the next elimination round we got two drivers over the finish line and into the top eight which sent them along to the finals. These two teams raced impeccably in the finals, and placed 2nd and 5th, missing out on the top spot by 0.002 seconds. What a massive day and congratulations to all team who raced!
BTG also helped sponsor Ocean Scott who entered the NZ Masters Division Soapbox Derby Championship 2017. After being crowned 2016 NZ Super Stock Soapbox Derby Champion and competing in the All American Soapbox Derby World Championship she became hungry for more!
On the first day racing, rounds 1 and 2, for the NZ Masters Division Soapbox Derby, Ocean placed 1st by half a point! Round 3 and 4 took place in Whangaparaoa with the track being very steep and hair raising corners. After round 3, Ocean placed 5th position but overnight made adjustments and prepared for another day of racing. Round 4 Ocean raced excellent, nailing those corners and overtaking all the boys in her competition. Ocean raced incredibly well and placed 3rd overall, and wants to strive for more in 2018.