Ensure data safety with Password Manager
Do you find it challenging to remember multiple passwords for various websites and keep them securely stored? Keeper is a password management solution that addresses the challenge of remembering multiple password credentials, safeguards against password-related data breaches and cyber threats while protecting businesses.
Keeper's zero-knowledge security feature ensures your data remains private and encrypted, with only you having access to the information stored on the device and in a cloud security vault. With its user-friendly interface and robust security features, Keeper offers businesses a reliable solution for password management and data protection.
Key Benefits
Ultimate Cybersecurity Protection: Protect your organisation's sensitive data with Keeper's state-of-the-art security measures. It offers AES-256 encryption, zero-knowledge architecture, and two-factor authentication to ensure maximum protection against cyber threats and data breaches.
Simplified Password Management: Say goodbye to password-related headaches. Keeper eliminates the need to remember multiple passwords by securely storing and auto-filling credentials for websites and applications. It streamlines the login process and saves valuable time.
Centralised Administration: Manage and control passwords effectively with Keeper's centralised administration console. Set password policies, enforce security standards, and monitor access to ensure compliance across your organisation.
Seamless Collaboration: Keeper enables secure password sharing and collaboration among team members. Simplify team workflows by securely sharing passwords and files, all while maintaining granular control over access permissions.
Secure Data Compliance: The only password manager product certified for use by US government departments. Meet stringent sensitive data protection standards.
Rapid Deployment: No upfront equipment or installation costs. Easy Active Directory and SSO integration.
Explore our top-rated password manager plans that cater to different needs and budgets that suit your business.
No annual commitment fee. Per user, per month pricing.
Works great with Yubikey
Physical Security Key with Passwordless Authentication.
Integrates with Office 365 for MFA.
Azure AD Passwordless Login for Laptops and Desktops.
Support Password Vaults.
Integrates with Other Main Third Parties.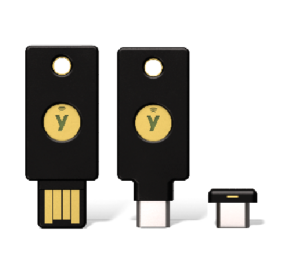 Keeper For Business
Ideal for small businesses, start-ups, and professional service firms.
Features
Secure File Storage: Store and share sensitive files and documents within the encrypted vault.
---
Single Sign-On (SSO): Streamline login processes with one-click access to applications and websites using SSO integration
---
Two-Factor Authentication (2FA): Enhance security with multi-factor authentication include SMS, TOTP, Smartwatch and FIDO U2F with Yubikey.
---
Role-Based Permissions: Control access and privileges for team members based on their roles and responsibilities
---
Team Password Sharing: Safely share passwords and sensitive information with team members.
---
Password Generator: Create strong, unique passwords with the built-in password generator for improved security.
---
Audit Trails and Reporting: Track password usage, monitor activity, and generate reports for compliance purposes.
---
Secure Password Storage: Safely store and manage an unlimited number of passwords and login credentials.
---
Cross-Platform Support: Access passwords and data across multiple devices and platforms, including mobile and desktop.
Keeper For Enterprise
Ideal with AD/LDAP integration, auto provisioning, and scalability focus.
Features
Enterprise-Grade Features: Enjoy all the features of Keeper Business with additional capabilities for large-scale deployments.
---
Single Sign-On (SAML 2.0): Securely exchange authentication and authorisation information between (IdP) and (SP).
---
Advanced Two-Factor Authentication (2FA): A robust and secure DUO and RSA authentication.
---
Azure AD Provisioning with SCIM: Simplify user management by syncing with your existing directory services.
---
Secure Team Collaboration: Collaborate securely within teams, assigning and managing passwords for shared accounts.
---
Automated Provisioning: Developer APIs for password rotation and backend integration.
---
Regulatory Compliance: Ensure compliance with industry regulations through comprehensive audit trails and reporting.
---
Customised Policies: Enforce password policies tailored to your organisation's specific security requirements.
---
Scalability and Flexibility: Scale your password management solution as your organisation grows and evolves.
Contact us to discover more password manager benefits and features.