Physical Security Key with Passwordless Authentication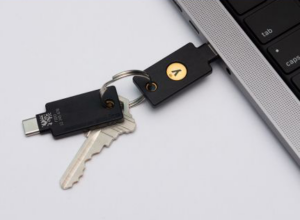 Traditional two factor authentication (2FA) methods such as mobile authentication apps or one-time passcodes (OTPs) sent via text messages are susceptible to advanced threats and phishing attacks. This threat can be mitigated by generating a unique physical cryptographic key that is virtually impossible to replicate, making it extremely challenging for hackers to steal passwords or personal information. This is where Yubikey is ideal for such situation.
Features
A small USB device that enhances the widely used two-factor authentication (2FA) method to secure online accounts.
User-friendly and highly secure. It works seamlessly with multiple services, allowing for quick and efficient authentication of identity and account access. It generates one-time passcodes within seconds, eliminating the need for recurring subscription fees or additional hardware.
Does not require any battery or cellular activity, and it is crush and water-resistant, ensuring durability and longevity.
A cost-effective way to protect online accounts and sensitive information from unauthorised access.
Enjoy a strong multi-factor passwordless with pin authentication and have peace of mind knowing that your online accounts are secure.

Key Benefits
Integrates with Office 365 for MFA
Immediate access to all of your Microsoft account at a touch of a button.
Azure AD Passwordless Login for Laptops and Desktops
Effortless, cross platform and highly secure logins achieving better security without compromising usability.
Support Password Vaults
Can be used with popular password managers such as Keeper, LastPass and Dashlane for seamless integration and enhanced security.
Integrates with Other Main Third Parties
AWS, Google, Apple iCloud, Facebook, Twitter, DocuSign, GitHub, Dropbox and much more.