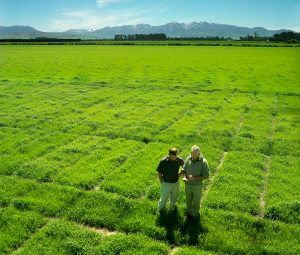 With staff in Australia, staff in various locations throughout the North and South Islands, and agronomists scattered around New Zealand, shifting to a cloud based platform has given leading Agri seed breeding and wholesale company, Cropmark Seeds, technology in the field.
According to Paul McKenzie, Financial Controller for Cropmark, "Our main reasoning was to get away from Xtra for our email as it was causing us more and more issues, but also the ability to have our servers go cloud based. It makes it a lot easier for our staff to access servers, and our remote staff."
"In the past the guys in the field just had very little information, so it was always something we knew was an issue – we just didn't have the technology to remedy it."
With a plant breeding programme that is one of the most extensive, highly innovative and professional breeding programmes being run anywhere in the world, it was time to support that innovation with an modern IT solution.

Previously, Cropmark's set up consisted of an old Sco Unix server on site that used to run their main application, and it was set up to use Windows file and print sharing on it as well. "It has never really worked properly because it's not designed to work properly in that capacity", says Ryan Cox of BTG.
Ongoing issues with that server meant discussions around replacement hardware, and future planning became paramount. "Earlier this year we went cloud based to Netsuite as our accounting package, and at that point we really needed to decide what we were going to do", explains Paul.
Cropmark's partnership with BTG extends beyond 6 years, and it was timely with the cloud-based CRM upgrade that BTG raised the offering of cloud and web-based servicing – Merge|IT focused on Microsoft Exchange.
"That's when we started to discuss the fact that we could host their entire system ourselves. We could look at hosting their environment within the Auckland Data Centre", says Ryan.
In an industry that is complex where IP, security and complexity of data, and the handling of information in that context is considerably important, Cropmark now know their data is secure and confidential.
According to Ryan, "That was the other big thing – knowing that their information was going to be offsite, backed up, and taken care of, meant it's just another drama out of their hair, which is fantastic!"
Another thing Merge|IT has taken care of is ongoing power issues in Cropmark's Templeton branch, but now being cloud-based, the entire system is accessible from home.
"It (Merge|IT) makes things easier for travelling and remote staff. We've found it very good. We've always been impressed, in particular with Ryan, over the years. He's always been really helpful, and continued to be throughout on this project. The knowledge of our systems has just made the whole thing pretty easy… seamless", adds Paul.
To find out more about BTG's Merge IT, please contact us today.