ANALYSIS
Gathering business intelligence is a critical component of systems management. As a result, leads are generated, efficiency tweaks made and resources deployed to best manage the workload on any given day.
Following the transition from a collection of disparate phone systems within its network, Freightways selected BTG to modernise its systems using the versatile 3CX platform beginning with New Zealand Couriers.
The new cloud-based system created an opportunity to source a new stream of information to strengthen Freightways' vision of being the recognised industry leaders in data and insights.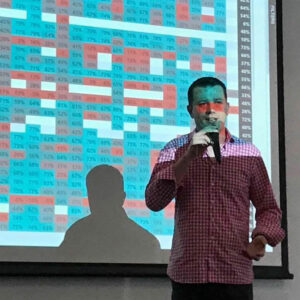 New Zealand Couriers' National Data and Analytics Manager, Jeff Smith, says the company's focus is to use the information it gathers to take action, not just to develop understanding of the business. "Our Business Intelligence Team is taking a design first approach, based on a simple principal called Three Thirty Three – three seconds for a user to orient themselves, once data is accessed, 30 seconds to gain insight and three minutes understand the action to take on it."
Freightways needed a data dashboard from its new 3CX phone system to help it with real-time call management in an environment where users could easily and quickly pull the required data.
DELIVERY
BTG account manager Ted Ebbing says the 3CX system can generate useful reports, but Freightways wanted more detail than it was capable of delivering and, importantly, as it happened.
To address the challenge, Ted explains technical teams from within Freightways and BTG worked together to develop the solution that matched the needs of the business units, to deliver the data that would underpin the analytics.
"We used an Agile-type process with Freightways which was key to being able to deliver what was required. Our team worked directly in partnership with them which was the beauty of the process, and one that generated results," Ted says.
One of the solutions required was to ensure there was no impact on the phone system when users requested reports. Some reports require a lot of processing power and bandwidth, so avoiding any lags or bottlenecks with the core function of the 3CX system was paramount.
The solution to avoid impacting performance was a live replication of the system. Information for reports is requested from a mirror of the active system which is handling all the calls without impacting any of them.
As Jeff puts it: "BTG worked closely with our database & infrastructure technical experts, and were able to create a data pipeline to link our phone system to our data lake, and datawarehouse with no impact on the operation, while still in real-time.
In any given day approximately 200 different users from across the country access our business intelligence portal for operations information along with customer experience (CX), sales and executive requirements.
Microsoft Power BI is then used by the Business Intelligence team at NZ Couriers, to turn the data into an interactive dashboard that provides actionable insights that Freightways people leaders then use to deliver.