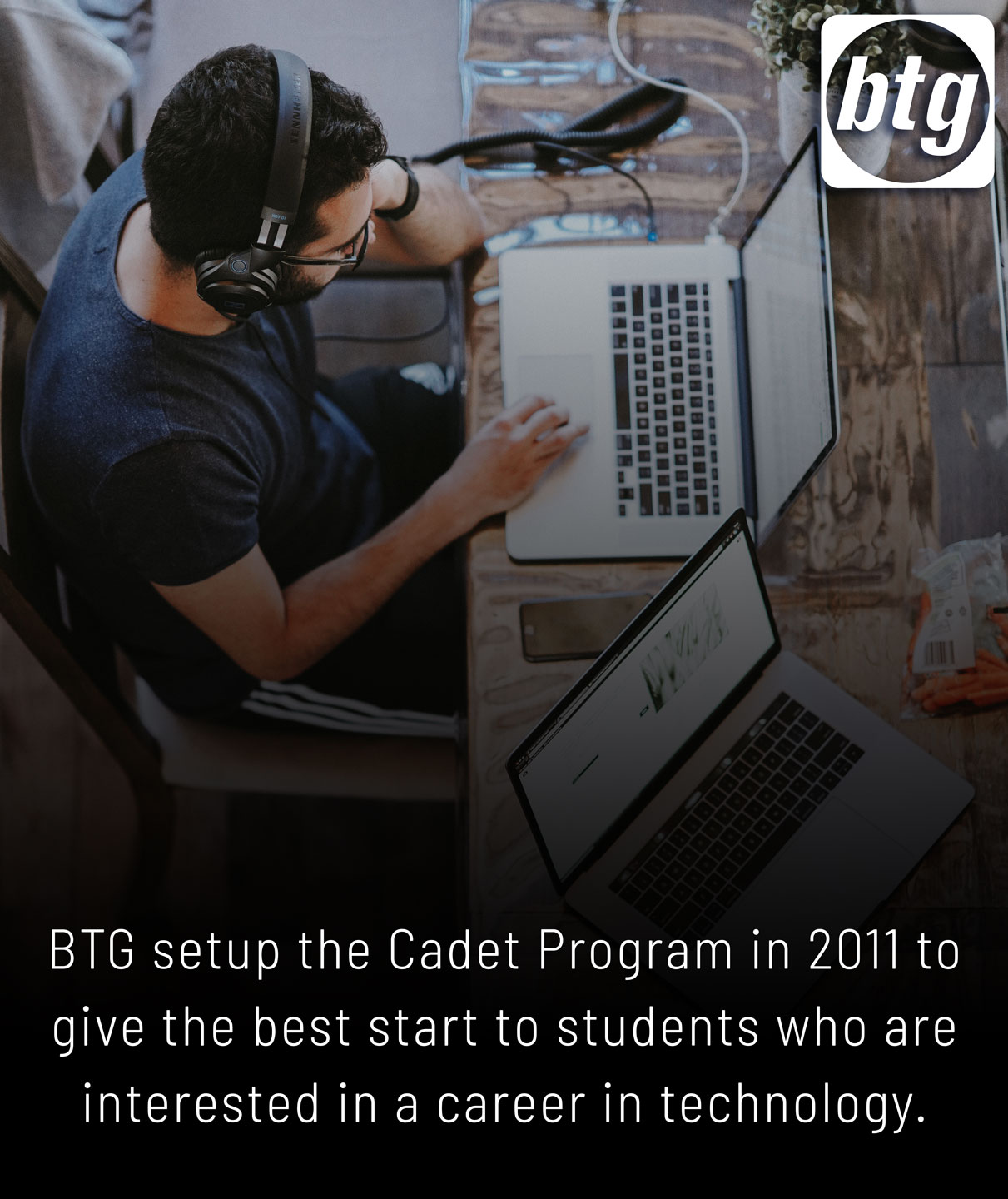 BTG setup the Cadet Program in 2011 to give the best start to students who are interested in a career in technology.  We train, inspire, and prepare future IT gurus without the hefty student loan attached.
The Program is about creating opportunities for students leaving high school as well as growing the IT industry within NZ.
We hear far more talk of cadetships within the trade industry, but what about IT? An industry that moves so quickly it requires smart-thinking individuals who are adaptable to new technologies.
"By the time students finish a university course, the course is already out of date. Within the IT industry, university programs just can't keep up with relevant trends." says Steve Harris, Director.
Our first cadet was from Tuakau College, he has now a qualified IT Engineer and has been working at BTG for 6 years.  But we have taken students from Selwyn and Howick college too.  The program is coming into its 12th year and continues to be extremely successful, both for cadets and BTG. We have trained 8 cadets, with 4 students currently being within the program.
How it works:
BTG lets the local high schools know about the upcoming spaces in the program. They advise principals, IT teachers and career management staff who then identify potential students who have a huge interest in IT and want to enter the industry but wouldn't have otherwise had the opportunity.
Process:
Initial application > Work experience interview > 5 days work experience > Formal interview with candidate and parent > Employment contract and job offer
BTG interviews between June and October. November they find out if they've been successful or not, and then they start the following February.
Benefits:
5 days' pay, work 4, includes one day per week for tertiary study.
All the usual holiday and sick day entitlements of all other employees.
First year – one on one training with a 20+ years experienced engineer one day per week.
4 years cadetship plus an additional 4 years as a qualified engineer.
All the other trimmings like access to vendor sponsored training & qualifications, personalised mentoring and technical training programs, in-house IT knowledge & experience.
Results:
The cadets coming out of the program have absolutely no student loan, are qualified engineers, have tertiary training, and earn a competitive salary. Starting the programme at 17/18 years old they get a head-start in the industry with real commercial experience, as opposed to being in his mid-twenties coming out of university and requiring another 2 ½ years training.
If you or your school is interested in the being part of the cadet programme.
To learn more contact us here.