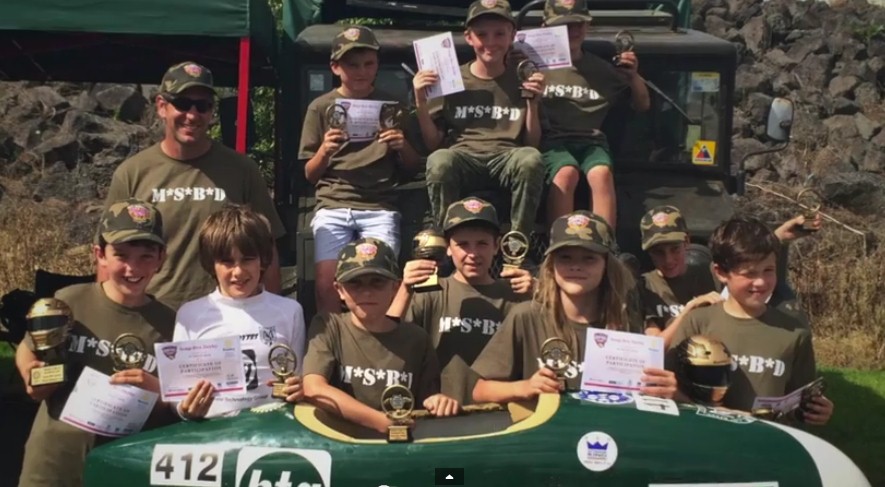 The soapbox derby returns to the East for 2015.
Last year due to changes in sponsorship the event was held 30kms away in West Auckland but this year Stonfields produced a perfect days racing.
BTG again proudly sponsored the Meadowbank teams placing 1st, 2nd, 3rd and 4th in the Eastern races and placing 3rd in the finals. Well done kids.
The sport of soapbox derby has continued to prove it's popularity with 11 schools and community groups from around Auckland meeting in Stanmore Bay for the finals on March 28.East Auckland was well represented with four drivers from the Meadowbank Militia, one from the Meadowbank Missiles and another from St Kentigern Girls.
The six qualified from the Rotary Club of Auckland East Soapbox Derby held in Stonefields on March 21.
The club's soapbox coordinator Mark Biggs says the Stonefields event produced a dry, fast track which was good practice for the finals. Each team consists of four drivers and six pit crew and it's vital everyone is on the same page, he says. ''The pit crews had done an excellent job to put [the cars] together – they certainly looked good too. ''Teamwork [is the key]. ''Everyone works to the same specifications and it's really important for the driver to follow their coach,'' Biggs says. However, the competition proved tough in Whangaparaoa with Meadowbank Militia's drivers finishing third and fifth fastest, while Kaythi Finn from St Kentigern's was fourth.
The overall winner was Luke Andrew of Waitakere Primary School.
With no crashes, the race was one of the safest competitions on the course to date.
The top qualifiers from East Auckland were (in order): Daniel Mollep (Meadowbank Militia), Ben MacSweeney (Meadowbank Militia), Peryn Griffiths (Meadowbank Militia), Braden Jones (Meadowbank Militia), Nicolai Foenander (Meadowbank Missiles) and Kaythi Finn (St Kentigern Girls).