Phone systems and unified communications solutions provider, ShoreTel has implemented a Unified Communications (UC) and Enterprise Contact Center (ECC) solution for cinema business, Hoyts.  Business Technology Group (BTG), the ShoreTel certified systems integrator, completed the rollout in New Zealand. BTG and ShoreTel are longstanding partners.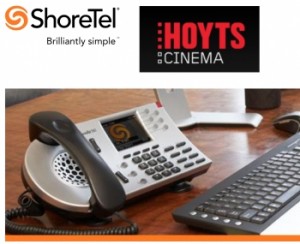 ShoreTel leverages the power of the Web to create an IP Telephony Platform as reliable and flexible as it is easy to deploy, manage, and use. BTG use and recommend ShoreTel for Voice over internet protocol (VOIP).
ShoreTel have partnered up with HOYTS Group, the cinema chain in Australia and New Zealand. HOYTS have deployed a ShoreTel Unified Communications (UC) and Enterprise Contact Centre (ECC) solution across 50 sites in Australia and New Zealand for over 2,300 staff.
Hoyts Group has seen a fast return on investment (ROI) following completion of the implementation of the ShoreTel UC infrastructure. HOYTS has achieved a ROI within nine months and has calculated annual savings of more than AU$300,000.
The deployment happened with three phases, beginning with an implementation of a ShoreTel UC and ECC solution as part of the Sydney HOYTS office relocation. After HOYTS acquired the Berkley Cinema Club, the deployment was extended to the head office in New Zealand. In the six months following, the PABX maintenance contracts throughout New Zealand and Australia reached their expiry dates and were replaced by the ShoreTel UC infrastructure.
HOYTS is currently using ShoreTel UC for all voice communications, and ECC for inbound customer service operations as well as HOYTS Kiosk. The contact centre platform is also supporting HOYTS Cinema Technology Group (CTG), which provides internal support and outsourced services to exhibitors and other companies who require support for digital cinema and related technologies.
Adam Wrightson, HOYTS Cinema Technology Group, general manager, says HOYTS was looking for an IP telephony solution that provided modularity and high scalability as the company was increasingly diversified and geographically disparate.  He says HOYTS required a system that was robust, efficient and low cost.
Wrightson says they evaluated the key players in the space, looking at hosted, hardware and software-based IP telephony options, and ShoreTel was chosen due to ease of use and management, modularity and scalability, and the ability to unlock the unified communications feature without significant additional cost or effort.
HOYTS plans to extend the collaborative capabilities of its ShoreTel technology and take advantage of new products when released. "The modularity and flexibility of the ShoreTel platform enables us to continue to diversify our operations with the comfort of knowing that our communications will not just keep pace with business change, but will actively support it," says Wrightson.