Brad Moore is widely respected for his expertise in the IT security space. 
We recently chatted to him about his career, approach to security and how he's settling in at BTG.
What's it like to be an IT Security Manager?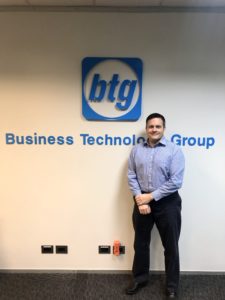 It's interesting. Security affects all aspects of IT. So there's always plenty of things to keep up with and learn about.
There's a lot of stuff to keep you stimulated and constantly learn. It's not an area where you can rest on your past experience and knowledge. You have to continually be investigating, researching and learning. 
As technology is constantly changing, so is security and the risks associated with that technology.
As a service provider, it's especially important for us. It's essential that we're doing things in a secure manner – which our clients expect and we're helping them be secure and protecting their business. 
How did you get into IT Security?
Back in my early IT career, I started getting involved in security work doing firewall implementations, multi-factor installs, remote access and networking in general. 
I just fell into that side of the business and it was something that I found really interesting. 
As more threats became known and made public, I was naturally interested in understanding how these threats and attacks work and how they could be effectively mitigated. 
Could you talk a bit about the differences between past roles and what you're doing now?
In the past I've worked in a variety of companies from very small firms up to very large retailers and banks. The smallest company I worked at was a 6 person startup right up to 265,000 employees for a huge financial institution. 
There are different focuses and risks across each business. For example, the bank had different risks to say a fashion retailer. 
The biggest difference with this position is being in that service provider role. The fact that we supply IT services for clients. To me it's critical that we do that in a safe and secure manner. 
Tell us a bit about your role at BTG
Our business is very reliant on the trust of our clients. We have to be able to protect their data and provide them secure services. 
We have to make sure that we're developing solutions and recommending security controls to help them.
A lot of it is around awareness. Many of our clients are smaller or medium-sized businesses. They focus on the core tenants of the business and what they need to grow and continue to do business. The focus is not often security. 
I see it as a part of our responsibility as a trusted service provider to make our clients aware of the key risks and then helping them to avoid becoming victims.
We see a lot of common themes impacting our clients around business email compromise and fraudulent requests. It's helping them be aware of the common attacks that will target them and helping them to identify and avoid such threats. 
Why did you choose BTG?
I like the way they go about things, the platforms they've built and the technology they use. 
I also liked the opportunity to help build something. BTG has built their services to be secure and client security has always been important. Now they want to bring more of a focus on building new security services for their clients. For example, building a Security Operations Centre (SOC) and setting up security monitoring capabilities.  
The opportunity to be able to build these things from the ground up was really attractive to me. 
How have you found the BTG people so far?
The people are great. Very technical, very knowledgeable. They're always happy to help out and jump on an issue or help out a client when needed. 
I think there's a good culture and definitely a lot of talented and skilled people that seem to really love their work and do what it takes to help out the client. 
What have you been working on so far?
I'm spending a lot of time learning about the internal systems, how the business works, our clients and the different service platforms. 
I'm building a profile of what the key risks are and the controls we need to have in place to address these as well as identifying opportunities to improve security internally and for our clients.
What does success look like to you?
It's interesting in security. Like in a lot of IT roles, success is an absence of certain activity. No one thanks the network guys when everything is working as it should, but they certainly let them know when it's not. 
I think security is a little bit more tangible: things you can point to. Like when an attack is identified but has no impact. That's a great story. To me success is having no major security incidents and knowing that the measures you put in place are effective at protecting both the business and our clients.
The most rewarding thing for me is to make a difference in both our business and our clients' business. They've chosen to do business with us and trust us, and if we can help them then that's the most rewarding thing. 
We also sat down with Nick Saunders, Christchurch Regional Manager to ask him how about Brad was settling in. 
What is Brad's role at BTG?
Brad is the IT Security Manager and is responsible for providing guidance and setting our strategy on all matters of IT Security.
What's it like having him as part of the team?
Brad is a fantastic and welcome addition to the team. We expect him to leverage his 20+ years of information security and risk management experience to help develop our security programme. At the same time provide expert guidance and advice to our clients to help reduce their risk and protect their businesses. 
We are also looking at building additional security services to address key IT security risks facing NZ businesses today.
What's been his impact in the business so far?
Brad has already provided a valuable contribution auditing our systems and processes from a security perspective. He's also helped with high-level consultation on security matters and overseeing work already happening around the security space at BTG.
About BTG
BTG is a New Zealand-based technology service provider creating better connections for growing businesses here and across the ditch. With 80+ staff and 400+ customers across New Zealand and Australia, BTG specialise in expert engineering services, quality IT products and dedicated account management.